CLICK ABOVE

!
THIS

IS WHERE
YOU *REGISTER*
FOR

…
…
"MS. HIGH
SELF-ESTEEM
AMERICA"
MODELING
AND
ACTING
**AUDITION**
*COMPETITION*
*PAGEANT*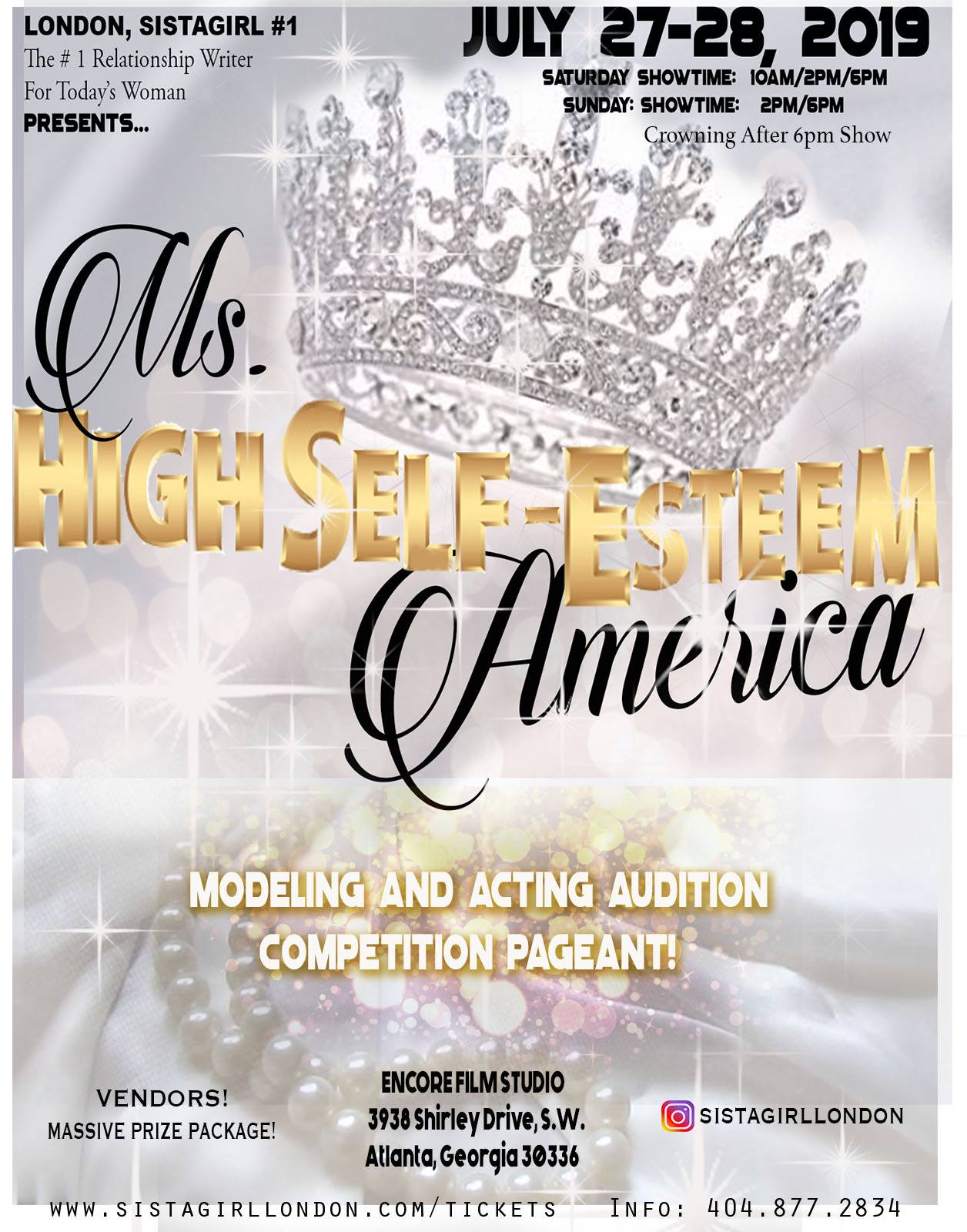 _____________________________

(EVEN IF YOU QUIT)
…
NO

REFUNDS
ON
REGISTRATION
OR
PRE-PAID
TICKETS

!
🙂

🙂

🙂

🙂

🙂

🙂
THIS BOOK IS MY
REGISTRATION GIFT
TO YOU!
YOU WILL
RECEIVE IT AT
THE RELEASE PARTY
IN SEPTEMBER!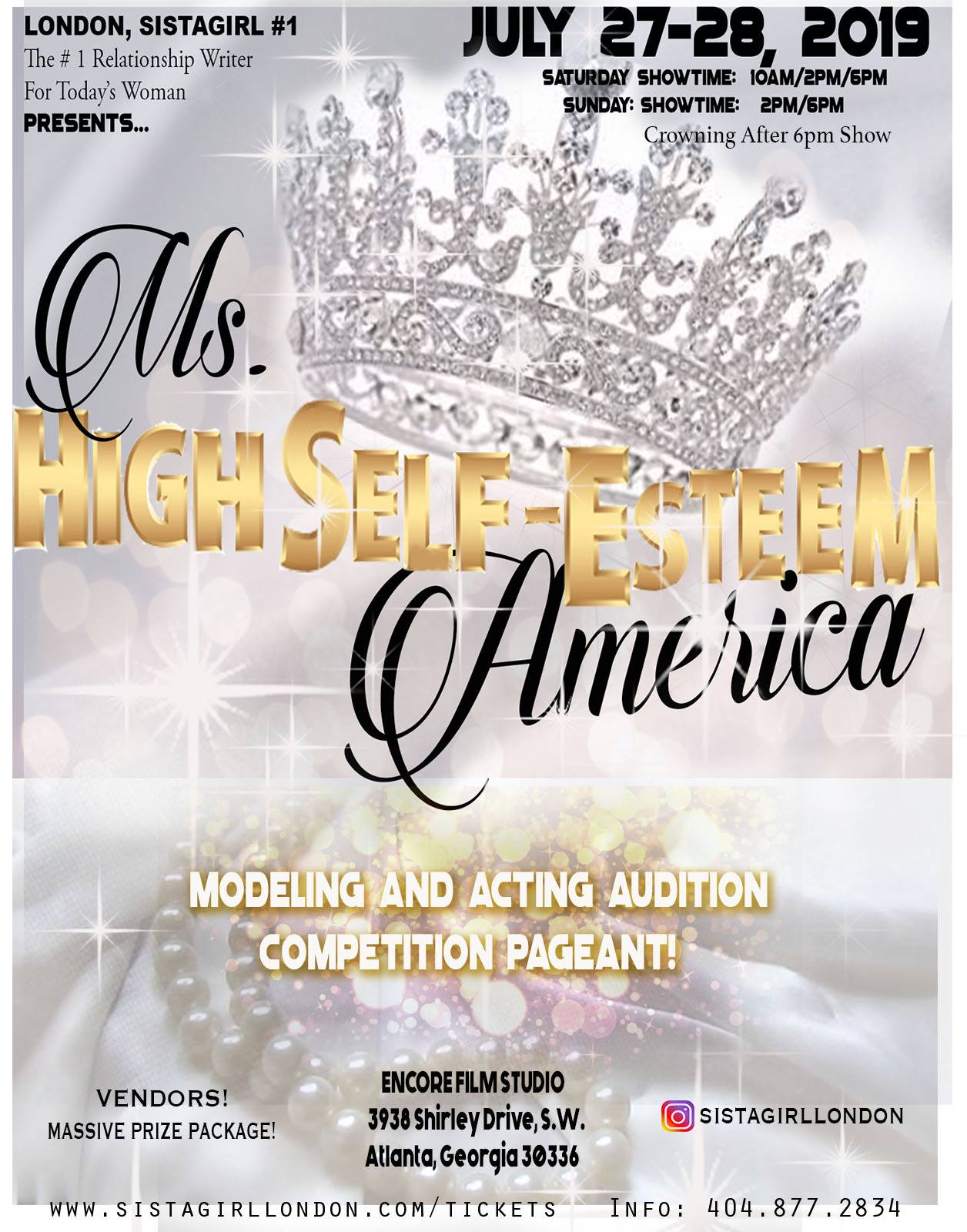 *IMPORTANT*
PLEASE READ!!
1.  EVEN IF YOU DROP OUT,
NO REFUNDS ON THE
"MS. HIGH SELF-ESTEEM
AMERICA" PAGEANT
REGISTRATION FEE
OR PRE-PAID TICKETS.
2.  EVERYONE IS TO SELL 
6 TICKETS.  YOU SHOULD BE
ABLE TO FIND 6 PEOPLE
IN THE WORLD THAT YOU CAN
PROUDLY SAY,
"COME SEE ME ON STAGE!"
(After You Sell Your 6 Tickets,
You Will Be GIVEN 10 Tickets.  )
Your Information And Release Form Will Be Signed By You At THE COMPETITION.
 All Photos And Video Taken By London, SistaGirl #1 Productions May Be Used For Pageant Competition Promotion Publicity, REALITY SHOW PROMOTION, FILM And Any Purpose As The Producer Deems Fit.

WE ARE ONLY PRINTING A LIMITED
AMOUNT OF COPIES OF THIS BOOK!  
DON'T BE LEFT OUT!!
(BOOKS SHIP BY SEPTEMBER 30, 2019!)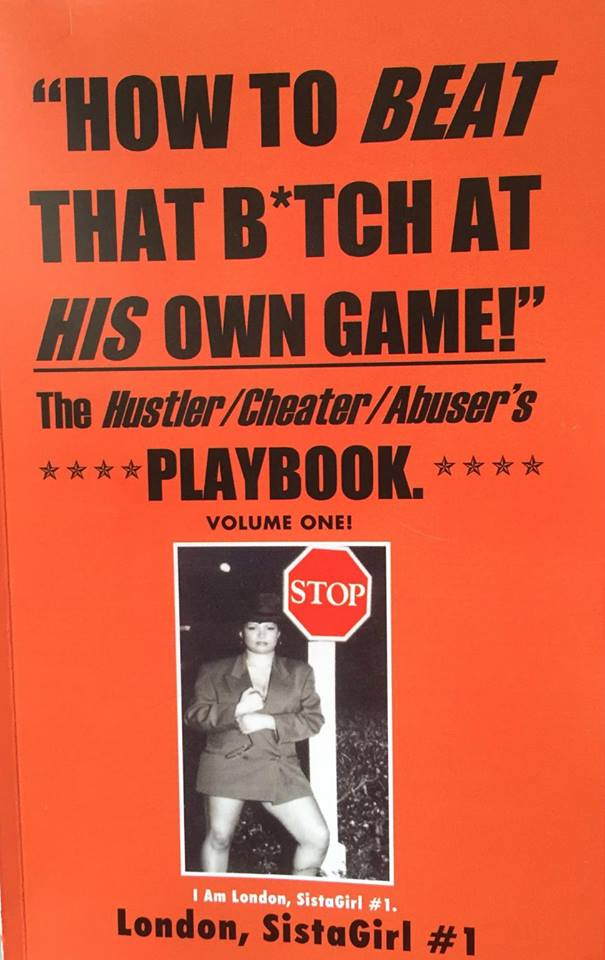 *****(Make sure you get a book for
ALL OF YOUR FRIENDS

 
who are always calling you with
their relationship
DRAMA & ISSUES!)
****This Book Also Contains My Letter
To OPRAH
About Cheating With Married Men!****
EXCERPT:
SistaGirls, years ago I was looking at the "Oprah" show, which, as you know, was a talk show that had been popular for manyyy years.  Oprah's guest on the show was Barbara Walters, a VERY SUCCESSFUL woman journalist who was executive producer and main host of a talk show called "The View." Barbara has interviewed prominent people throughout her long and illustrious career and she was a guest on Oprah's show to promote Barbara's autobiography.
In her book, Barbara wrote about the salacious, scandalous  fact that earlier in her life, she had an interracial affair with a married senator!  Oprah asked her if she had been the man's "mistress." Barbara said NO, she had not been his mistress because she took care of herself and he didn't do anything for her financially.  Barbara then asked Oprah, who has admitted in the past to ALSO having an affair with a married man, if Oprah was that man's mistress. Then Oprah, in an arrogant way, whooped:  "Honey, I ain't NEVER been taken care of by no man!"  The two women then smugly bragged as they told how the married men they dealt with was always over their house, they spent weekends and holidays with their married men and THEIR married men told their wives they wanted a divorce.  Their statements irritated me and made "my face frown up and my eyes squinty."
At the time I "talked back to the TV" … but this is what I wanted to TELL Oprah and Barbara … two professionally successful women who BOTH admitted to AFFAIRS with married men … but EACH had a problem applying the word "mistress" to THEMSELVES … because they felt they were in a different, more "special" category than women who deal with married men for money and other resources:
"First of all, again, I respect both of you as successful career women and I applaud your professional accomplishments.  However, I must respectfully express my disagreement with your arrogant distaste of using the word "mistress" in applying it to your actions when you dealt with married men.
When Oprah boisterously said, "Honey, I ain't never been taken care of by no man!" … and while the two of you cackled that you were NEVER anybody's mistress, this is what I wanted to say to you:
Whether or not you have a problem with the word "mistress" when applying it to yourself … whether or not you two mega-powers feel you've never been a married man's mistress because he didn't financially take care of you because you did THAT yourself … get off your high horse.  YOU WERE STILL GIVING YOUR VAGINA TO A MARRIED MAN, the same as "mistresses."  If you weren't getting anything for it, well, I hate to say it but … THAT'S YOUR DUMBASS!  I don't care WHO you gave your cooch to because, after all, it's your cooch, but don't be snooty and arrogant about it.  You were stll "sexing" a married man so don't put on "airs."
TO READ THE REST OF THIS CHAPTER, GET THE BOOK!  I don't know if Oprah or Barbara will ever see this letter but hopefully the information in it about MARRIED MEN WHO CHEAT can help YOU or YOUR FRIENDS!!
Copyright 2011-2019 London, SistaGirl #1 Productions.  All rights reserved.
AGAIN, WE ARE ONLY PRINTING A

LIMITED
AMOUNT

OF COPIES OF THIS BOOK!  
DON'T BE LEFT OUT!!
BOOK SHIPS BY AUGUST 3, 2019!

LIMITED EDITION COLLECTOR'S ITEM! LIMITED QUANTITY!! ORDER YOUR TEXTBOOK NOW!!

FIRST SHIPMENT ALMOST SOLD OUT! YAYYYYYYYY!

CLICK BELOW TO GET 318 PAGE AUTOGRAPHED

35.00 plus shipping/handling!

_________________________________________

***ATTENTION:***

PLEASE NOTE THAT BOOKS

WILL BE SHIPPED TO

YOU BY:

SEPTEMBER 30, 2019!  

BECAUSE OF HIGH DEMAND,

DO NOT EXPECT YOUR

TEXTBOOK BEFORE THEN!

(Allow 10 to 15 Business Days for Delivery)

THIS RELATIONSHIP TEXTBOOK IS NOT SOLD IN STORES! THE ONLY WAY TO GET A HUSTLER/CHEATER/ABUSER'S PLAYBOOK IS TO ORDER IT RIGHT HERE! (or for a higher donation at gofundme.com/sistagirllondon.)

HUSTLERS, CHEATERS AND ABUSERS WERE TAUGHT THESE SECRETS & GAMES PRACTICALLY FROM BIRTH … AND YOU & YOUR FRIENDS WEREN'T! THEY ARE USING THESE SECRETS "AGAINST" YOU & YOUR FRIENDS!  GET THIS TEXTBOOK AND GET THE "INSIDE INFORMATION" TO BECOME SMARTER THAN THEY ARE … OR, AT LEAST TO LEARN THEIR GAME … SO YOU WILL KNOW WHAT YOUR NEXT "MOVE" SHOULD BE!!

Get This Textbook & Relationship Seminar NOW! ! !

Purchase Via PAYPAL

****DONATE $35.00 TOWARDS OUR FEATURE FILM AND

RECEIVE THE BOOK AS MY GIFT TO YOU!!!! 

Shipping – 1.00

(Email Us (march23golddiggers@yahoo.com) for International Shipping)
DID YOU READ THE …
******CHAPTER LIST******
1. "Stop Bringing Your Good Booty Calls To The Family Breakfast Table!"
2. Go Look In The Mirror.  Are You The Woman A Hustler/Cheater/Abuser Is Searching For?
3. Maybe God Was Too Busy To Do A Background Check!
4. Be Honest.  Have You Ever Considered Getting Into A Relationship With A Woman Because You Are Tired Of Being Hurt By Men?
5. How Did We Go From A Potential Relationship To You Only Calling Me For Sex?
6. WHY Is It The Responsibility Of Other Women To Tell A Married Man To Go Home To His Wife?
7. Letter To Oprah About Cheating With Married Men
8. "Look, He Don't Want You No More!  There's Your CLOSURE Right There!"
9. "Before You Go Beat A B*tch's Ass For Messing With Your Man!" CHECKLIST
10. Are You Going To Let Your Loneliness Turn You Into "Mistress Material?"
11. Do You Think It's Fair For You To "Jump Into" An Abusive Relationship And Then Call Yourself A Domestic Violence "Victim?"
___________________________________________________________
Copyright 2011-2019 London, SistaGirl #1 Productions.  ALL text herein is the property of the author and may not be copied or reproduced without explicit permission.